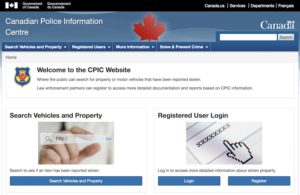 We are often asked, what is the CPIC?
People are often told during their youth that they need to behave themselves and don't get into any kind of legal trouble, or else "it will end up on their permanent record." To the majority of Canadians, this often feels like an idle threat to maintain good behavior, but in actuality, this is not a nebulous threat at all. A permanent record does exist if you have had any contact with police, and it can have an impact on your life.
One sad example of this is a man from Hamilton, Ontario who is now permanently barred from entry in the United States. At the age of 57, in 2017, he was stopped at the airport on the way to his retirement home in Florida. A background check—the first he'd ever experienced—was conducted, and it was found that he had a criminal conviction dating back to when he was 17 years old, and charged with theft, for not returning curtains that belonged to his landlord.
Now, 40 years later, that one blemish on his permanent record was enough for the American Customs & Border Patrol to permanently deny him entry into the country. Despite the fact that he had never had any issue before, now, because of one background check, and one minor act of theft when he was a teenager, he couldn't even travel to his legally purchased retirement home in Florida.
As a result of being denied at the US border, this man from Hamilton has been forced to sell his retirement home, because of something from his youth that was preserved in a CPIC database. He was not aware of his ability to obtain a US Entry Waiver in order to return to the US.  So what is the CPIC, and why does it contain a permanent record?
So What is the CPIC Exactly?
The CPIC stands for the Canadian Police Information Centre, and while that name seems generic, the CPIC itself is actually maintained not by any local, or provincial police force, but by Canada's own elite law enforcement group, the Royal Canadian Mounted Police (RCMP). The CPIC maintains a database here where all current criminal cases—as well as past—are preserved and maintained.
However, the CPIC is also a local, provincial, national and internationally accessible police database. If someone is arrested, charged and successfully convicted of a criminal act, here, in the CPIC database, is where the mythical permanent record is created and stored. It means that no matter where someone with a criminal conviction in Canada goes, that record is always accessible.
Police in different provinces—and the RCMP, of course—have complete access to this information whenever they need it. However, other law enforcement groups internationally also have access to this information. This means that even the American Customs & Border Patrol or the International Police group, INTERPOL, can pull this information.
But it's not just police groups that can access a criminal record. Even the public can do so; it's just that it's not free for them. So if someone were interested in you for a job offer, and they wanted to conduct a background check, at least for criminal record purposes, your consent is not always legally required to begin this check. In some government or other regulated positions, a background check with the CPIC may even be legally mandated.
Clear Your Criminal Past
A record suspension, formerly known as a pardon, is a way to seal your criminal record with the CPIC. Pardons Canada has years of experience in helping people to get their record suspension and if you need this kind of help, contact us; we're here for you.
Pardons Canada
undertakes all necessary steps and procedures for removing your criminal record, including: Pardons/Record Suspensions, Purges, Photograph & Fingerprint Destruction, and U.S. Entry Waivers.