Among the most common convictions in Canada is Driving While Ability Impaired, also known as DUI, DWI, more than 80 mgs of alcohol.  There are over 80,000 convictions across the country for this type of offence.
When you are caught drinking and driving the consequences can be severe.  In addition to losing your licence for a period of time, the fines for a DUI are hefty as well as legal fees if you decide to fight the charge in court.  Also, insurance rates can skyrocket in the event you are convicted of a DUI, making the entire proposition very expensive.
Once you have been convicted and paid your fine, you will need to stay out of trouble for a prescribed time before obtaining the pardon or record suspension.  The good news is that you will be able to remove your criminal record and hopefully live a criminal free life afterward.  The relief of no longer having a criminal record once the record suspension is approved is huge.  You will now be safe for work and travel and volunteer purposes without worrying about your criminal record getting in the way.
Here is a letter we recently received from a person we helped to remove an Impaired Driving conviction by way of record suspension: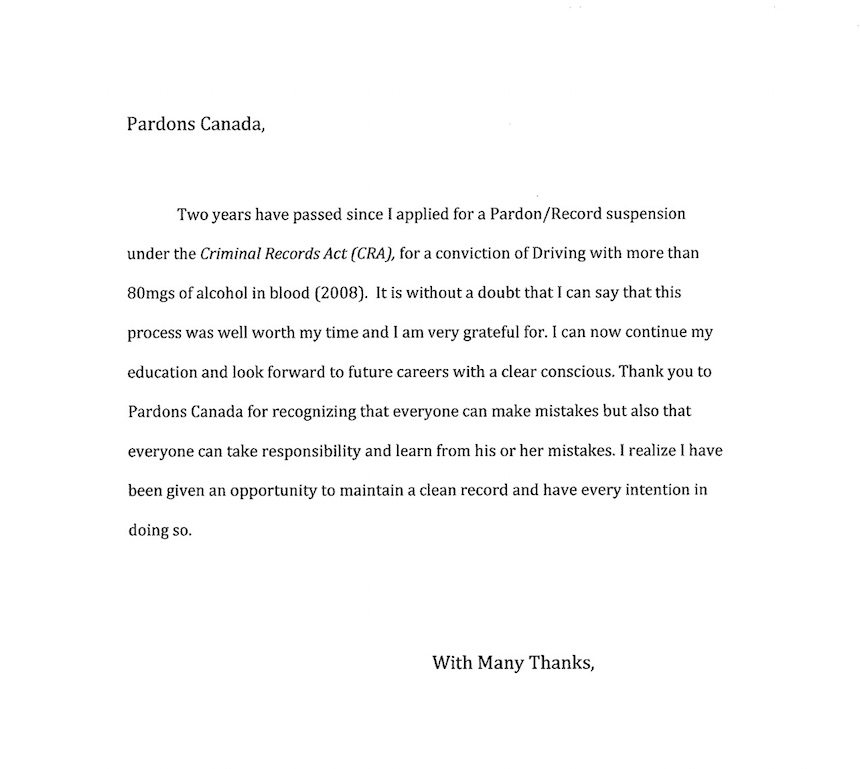 Pardons Canada
undertakes all necessary steps and procedures for removing your criminal record, including: Pardons/Record Suspensions, Purges, Photograph & Fingerprint Destruction, and U.S. Entry Waivers.