Pardons Canada has long been an advocate for the rights of Canadians to obtain a pardon or record suspension to remove a criminal record from public screening.
In light of the recent news article "Liberals to possibly reverse pardons laws set by Conservative government", Pardons Canada has put out a press release about an open letter to the Honourable Ralph Goodale, Public Safety Minister, urging him to make these changes.
http://www.cbc.ca/news/politics/liberal-criminal-justice-pardons-1.3412533
MEDIA RELEASE
EMBARGOED: For release 9am, January 21, 2016
A leading organization that helps Canadians to secure pardons has issued an open letter to the new Liberal government, calling for the immediate reversal of the rigorous restrictions on pardon applications introduced by the Conservative government.
Andrew Tanenbaum, program director of Pardons Canada, a non-profit group based in Toronto, has seen first-hand the devastating effects that the former Harper government's 2012 changes to pardon eligibility have had on Canadians.
"The new restrictions have created greater levels of despair and desperation for Canadians who are now unable to get a record suspension for a decade or more, shutting them out of employment opportunities for a large part of their lives," says Tanenbaum.
Following a 2010 Canadian Press report that sex offender Graham James had been granted a criminal pardon three years earlier, the Conservative government passed Bill C-51 in 2012, introducing changes that made certain offences, such as sex crimes against children, ineligible for a pardon. Certain repeat offenders were also barred from receiving a pardon.
But the changes were just part of a wider overhaul that introduced the term "record suspension" to replace the word "pardon." The required crime-free period that must elapse before an application can be heard was increased—by 100 percent—and those, including seniors, who find themselves financially unable to completely pay off what can be substantial fines are forever blocked from filing an application.
"Offenders who have fully paid their debt to society and lived crime-free for years should have the right to reintegrate into society and get jobs to contribute to society," says Tanenbaum. "Many cannot apply for citizenship or travel abroad or volunteer for charitable work or visit US relatives for what can be over a decade."
Backing up this position are social advocates—including the Parole Board that reviews record suspension applications—who argue that pardons provide a powerful incentive for offenders to remain clean and productive, benefiting society as a whole.
Tanenbaum points to Deborah, a client born in 1952 who was convicted of theft after being accused of stealing from her mother's estate. Today, unemployed and desperate to work, she is repeatedly denied employment due to her criminal record. But under Bill C-51, she is not eligible to apply for a pardon until 2021.
Wayne was found guilty of drug trafficking in 2009. Now 32, he has been trying to open a licensed restaurant. His liquor licence application was denied due to his record. Yet under Bill C-51, he will have to wait until 2021 before he can apply for a pardon.
"Bill C-51 is even a bar to citizenship," says Tanenbaum. He describes the case of Ujitha, a landed immigrant convicted of fraud in 2009. "A pardon must be granted before a citizenship application can be made, but this client must wait until 2020 to apply for a record suspension."
Daniel, retired and living on a small pension, has struggled to pay off $20,000 of a $95,000 fine levied as a result of a tax fraud conviction in 1997. Without hope of ever retiring this debt, he is blocked from applying for a pardon for the rest of his life. As a result, he has been denied entry to countries requiring a visa (which requires a records check), he has been refused as a volunteer for animal welfare work, and he cannot visit relatives in the US. Under the old rules, he would've been eligible to apply despite an unpaid fine after 15 years post-conviction.
"Even the term 'record suspension' is an unnecessary and negative change," Tanenbaum says. "We strongly urge Prime Minister Trudeau to live up to his promise to reverse the more negative pieces of legislation introduced by the former administration—starting with the unfortunate backward steps in the Canadian pardon system."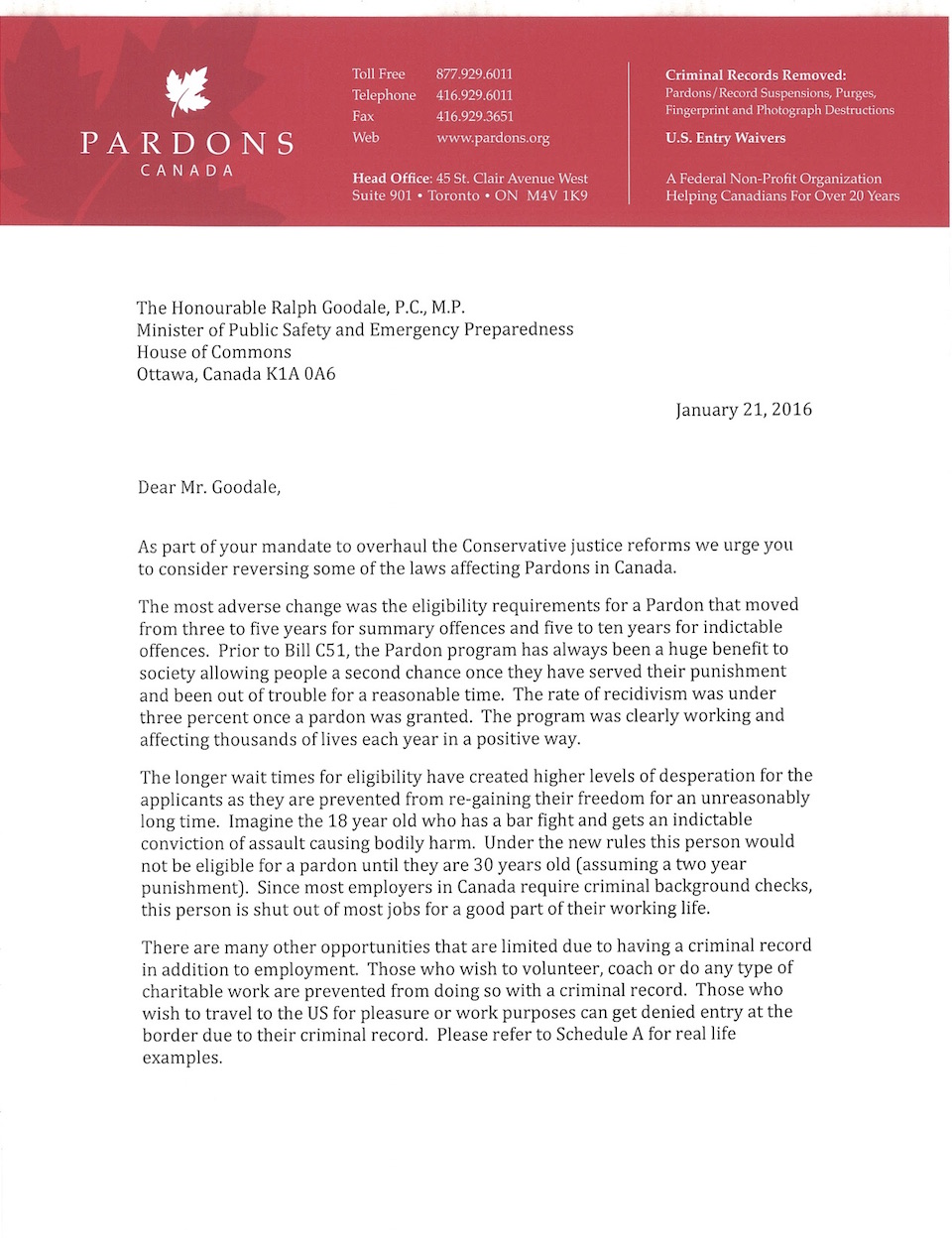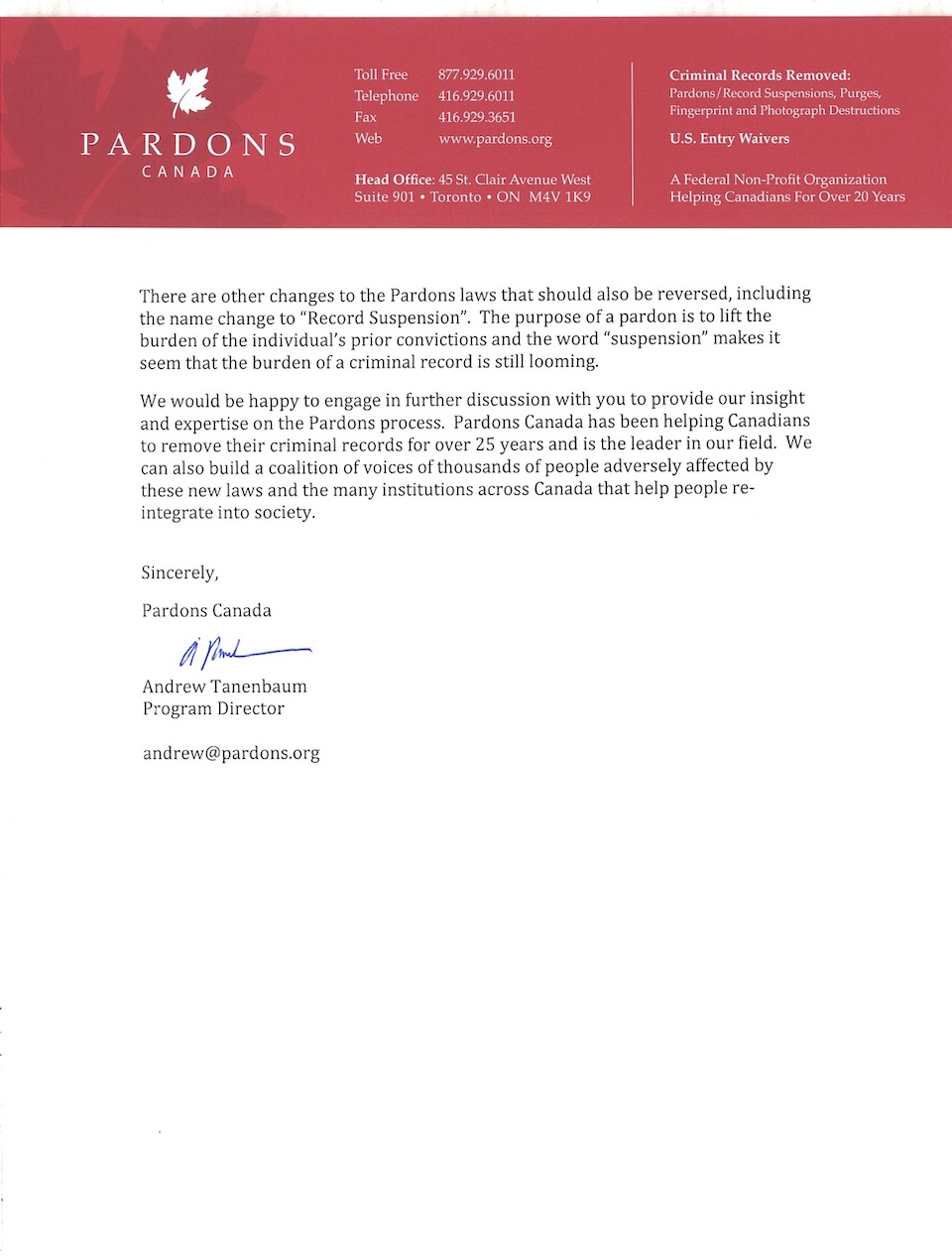 Pardons Canada
undertakes all necessary steps and procedures for removing your criminal record, including: Pardons/Record Suspensions, Purges, Photograph & Fingerprint Destruction, and U.S. Entry Waivers.